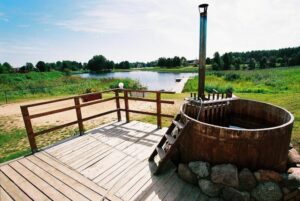 In Japan, China, from ancient popular tubs filled with water, which can accommodate more than one and not even two people. For this reason, Lithuania rapidly gaining popularity with wood heated huge tubs are often called Japanese bath, the other they are "hung" bath Norwegian name, such as hot tubs, loved and Scandinavians.
Bath – tub is installed outside, in the open air. Depending on the outside temperature, so "bath" heated within 2-5 hours. In summer, lovely time is enough and 40 degrees C, the other creates a warm up to 45-50 degrees.
When heating in a tub is sitting on a specially designed benches, half-lying position. It is advisable to keep the heart of the area above water, especially if the water temperature is high enough. After the bath is advisable to rest and refresh yourself with cold water.
Hot tub – unique attraction for lovers of romance. This bath can not only enjoy the warm summer evenings, the procedure is much more exotic in winter – evaporating water tub and chill of winter snow, tree branches: what could be better? Bathing in a tub in the winter, it is recommended a hat.
It is also possible to combine certain procedures in the bathhouse with the tub procedures: after steam bathhouse, you will got a refreshment and relax in the tub, and then you can try the ice hole…
Doctors recognize the positive effects on the body of being in a tub – the prevention of influenza, coryza. Even those with metabolic disorders, and patients with rheumatism, nervous diseases can try this prophylactic measure.