Canoes rent
Workdays: 16 Eur
Friday, Sunday: 20 Eur
Saturday: 24 Eur
Life-jackets are for free.
Agreeing canoes are brought at the beginning and are collected at the end of the route, also it is possible the transportation of a stuff. Your transport can be safely left in the homestead.
Routes
Ancia Lake – Baltoji Ancia River – Baltoji Ancia power station – Nemunas River (tour term is two days, 31 km).
Veisiejis Lake – Niedus Lake – Niedus River – Kapciamiestis – Baltoji Ancia –  Baltoji Ancia power station – Nemunas River (tour term is two days, 38 km).
Also, it is possible to have one day tour, according to your or our selected river section.
http://lazdijai-turizmas.lt/lt/marsrutai-turistams/vandens/
Maros routs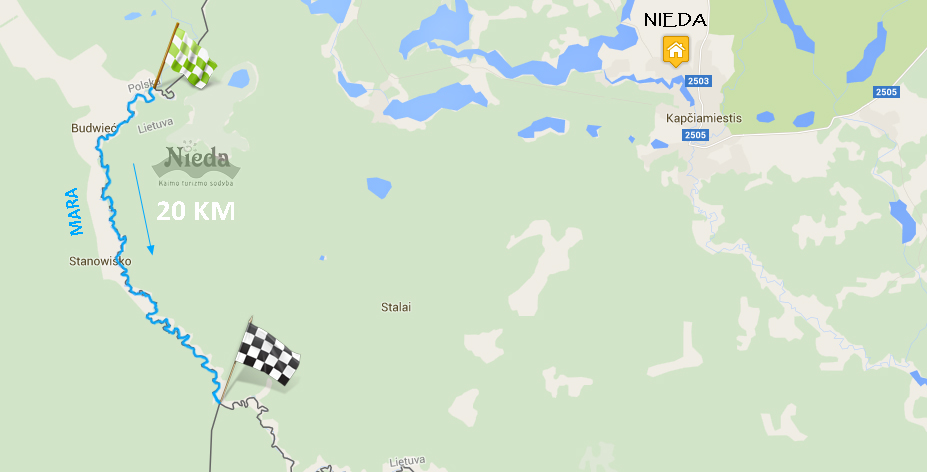 Time 4-5 h.
Distance – 20km
Baltosios Ančios rout
Jezdas – Sventijanskas
Time – 3 days.
Distance – 30km
Zapsės rout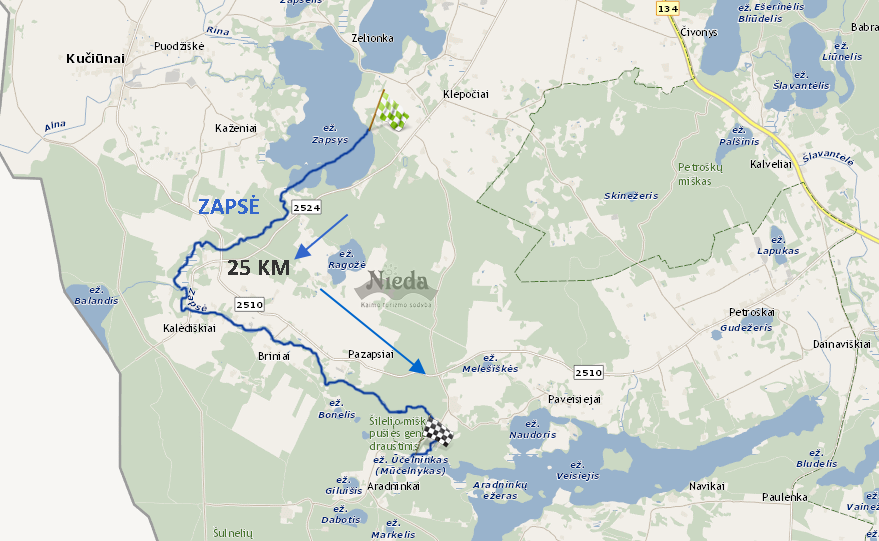 Galsto ežeras – Veisiejų ežeras
Time 4-5 h.
Distance – 20-25km
You will see a lot of beautiful views while you have a route down Baltoji Ancia River. At the beginning of a route you will see the village Jezdas. This village is in the territory of Veisiejai regional park, 5 km from the town Kapciamiestis. Next you will reach Kapciamiestis. The town was established at the beginning of the XVI century on the Baltoji Ancia and Niedus rivers confluence. According historical sources, in 1516 King Zygimantas Senasis gifted a large forest area for his scribe Sidoras Kapcys. According to the custom of those times locality got the owner name. About an hour later you will see an ancient village called Pinciaragis, which is called Palangele by locals. This is the Stone Age settlement, where the two piers are prepared for tourists to stop and to admire a stunning view. An area of the settlement is 2.7 ha. After a rest in Pinciaragis, while you will continue your route you will see the village Macevicius. From this village the Baltoji Ancia water dam starts. After three hours canoeing down the dam you will see Baltoji Ancia hydroelectric power station, which was built in 1955 and which power is 450 kilowatts. After you carry the canoes across electric dam, a very extreme route till Nemunas will wait you. There will be the end of your route. It is forbidden to canoe to Nemunas River because it is the Republic of Lithuania border with the Republic of Belarus.
Recommended inventory list
This list will help you to remember to take the most necessary things for your tour. The most important advice for the beginners is that all items must be packed in the sealed bags. Also, it is important not to take anything unnecessary (everything can be packed into the garbage bags, 2-3 layers and everything will be really dry).
•    Tent;
•    Carpet;
•    Sleeping-bag;
•    Safeguards against insects;
•    Hygiene cure;
•    Raincoat;
•    Necessary clothes (when you will get wet or because that in the evenings can be cold);
•    Garbage bags;
•    Waterproof bags for mobile phones and cameras;
•    Food and flatware.
Canoe "Vista"


This double polyethylene canoe designed for swimming in rivers and lakes. Built-in seats and footrests guarantee comfort. As the canoe is made from polyethylene, it is very resistant to shock, which guarantees your safety. You will not be terrible of stones or branches.
Length – 485 cm
Width – 82 cm
Weight – 37 kg